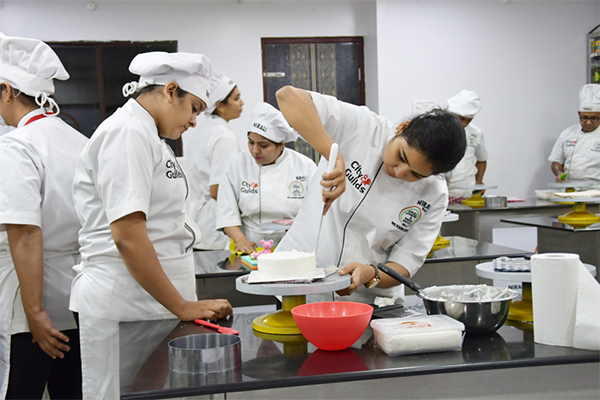 Course Duration : 3 months
Intro:
This 3-month course Institute Covers And Conveys Every Essential Technique required To Master the art of Professional Patisserie and Bakery Craft, it will give you immense confidence That You Can Smoothly Do One Product production or if you want to go abroad have a Fruitful Career & luxurious life with cruise line ups 5 Star Or 7 Star, Our Affiliation With City & Guilds London, (UK) Makes Our Students Career Easy
Course Diploma:
NCBI Issue Trio Certification Which Plays Vital Role In Your Career, These Certificates Will Not Only Help You Make Your Career In India But Also In Several Different Countries The Certification Will Be One From FICSI -Ministry Of Skill Development ( N.S.DS.C) And Another Will Be From City & Guilds Which Is Affiliated To London (UK) ,third self-accreditation by Nirali Mahavir Education Society.
Who Can Enroll?:
Student Aging 16 Years And Above
Must Be 10th Passed From Any Board From India
Session:
Our Sessions Will Be Performed With All Safety Precautions, Hygiene, And Under Skillful Expertise
Taught For Over 300 Plus Hours
Session Will Include Theoretical Knowledge And In Hand Practical's As Well
Practice & Doubt Solving Session Will Be Held Every Saturday
MCQs And Written Exams Will Be Conducted Which students is a Must to Attain
Adequacy & Outgrowth:
From Varieties Like - Chocolate & Chocolate Structure, Entremets, Viennoiserie, Verrines, Cakes, Hot& Cold Desserts, Laminated Pastry, Cookies& Biscuits, and Everything Will Be taught Hands-on Even Dough Making FlourPreparations, Icing& Patties with Essential Techniques & Methods. Practical's and Theoretical Sessions Makes Students Experience Their own set of challenges, Problems & Confusion Which can Later be Resolved By a Team Of Expertise chefs
Term Includes:
Hand-on Sessions
Theoretical Session
Chef Uniform
Tool Kit
Every Days Testing
Doubt Solving Sessions
Projects
Internal Examinations
Course Studies
Raw Materials
Class Delivery
The Students Will Learn Extensively about the exquisite flavors & Expert Baking techniques. They will be taught about numerous aspects of modern Cookery including how to work in a professional kitchen environment with international safety standards, Candidates Will be required Complete Projects And Assignments At The Given Period of time & The Students Should display both practical Skills And Associated Knowledge To Complete the EvaluationIn the final assessment, both practical and theoretical students are tested before being certified by Nirali Cookery And Bakery Institute
Practical
Breads
Chocolate Making
Cookies & Biscuits
Entremets
Viennoiserie
Cakes
Pies & Tarts
Cold & Hot Desserts
Chocolate Structure
Sugar Art
Much More
Hygiene & Food Safety
Budgeting & Costing
Recipe Management
Entrepreneurship
Certification
Level 2 Certificate Of Diploma in Professional Patisserie & Bakery Craft From City & Guilds London (UK)
Certificate of Accomplishment From Nirali Cookery & Bakery Institute
Fee Structure
Teaching Fee.
Gst.
Other Charges.
Grand Total.
Career With This
One Product Production
Luxurious Jobs With Cruise Line-up
Respected Jobs At 5 Star & 7 Star Hotels
Own Production House
Take-Away Business
Jobs At Production house
QnA
Why Choose Our Institute?


Ans. We Believe To Achieve Something You Must Have A Practical Approach Thus We Always Make Sure That Every Student Must Participate In Hands on Session

Do You Offer 100% Egg Free Baking?


Ans. Not Just This Course, Our Institute Offer 50 plus Varieties of Courses in Baking and Cooking and We Proudly Say That Every Course We Offer Are 100% Egg free

How Is The Course Evaluated?


Ans. The Course at Our Institute Evaluated with the Help of Various Projects & Internal Examination via Written andVarious In Hand Practical's

Do We Need A Degree To Enroll?


Ans. No you don't need such things in order to enroll for diploma we just Expect youto have little knowledge about what you been investing your life, for that too we are here for you

What Are The Documents Required?


Ans. You Just Need Mark Sheet Of 10th Or Above, 2 Photo Copies Of Your Govt. I'D & Some Passport Sized Photograph& Residential Proof Would Be Sum Up your Admission Successfully In Our Institute

Are Projects Mandatory?


And. Yes, Projects are as much as important as In-Hand practical's Are In this Course Because We Believe Projects Play vital Role In understanding concepts in simplified Manner Yet Very Swiftly